This post may contain affiliate links. Click here to read my Disclosure Policy.
You may have heard that it is the thought that really matters. This couldn't be truer when you are considering Christmas gifts for your family and friends. Homemade gifts can be just as special, allowing you to get creative and use what you know about the person to give them something special.
Instead of waiting in long lines and worrying about finding the perfect gift, maybe you can make it yourself. Crafts aren't just for kids. Our guide to homemade Christmas gifts can help you get started.
Christmas tree decorations
This is a gift that will be used for years to come. I've always loved creative ornaments that add a personal touch to the tree. Ornaments can be as simple or as intricate in design as you like.
Print out photos and place them on cardboard. U.Find a hole punch and tie a colorful ribbon for a personalized ornament. Use this fillable glass Ornaments and fill them with personal trinkets. This material Christmas tree decorations add a bit of fun to every Christmas tree.
There are so many ideas for Christmas tree decorations available, so get creative and have fun.
Christmas decorative pillows
Who said ornaments are only for the tree? Festive decor is always a good idea. Christmas decoration throw pillows are stylish and not too difficult to make. For all the details on how to make this homemade Christmas gift, click Here.
Christmas Crush Sugar Scrub
The winter air can be harsh on our skin. Treat yourself to a scrub with a homemade sugar scrub. With ingredients you may already have at home, sugar scrubs make a great homemade Christmas present.
Here is a recipe you can use. Start with two bowls.
Combine half a cup of sugar (organic sugar is especially good for scrubs) and half a teaspoon of almond oil in each.

In the first bowl, add red food coloring (more or less depending on the shade you want.

In the second bowl, add green food coloring.

Stir both mixtures until the color is even.

If you feel like it, you can add essential oils like lavender, peppermint, or rose to add a little scent to the scrub.
Layer the mixes together into a mason jar for a festive striped display.
Bath bombs
Winter is a wonderful time to enjoy a hot bath. You can improve bath time with homemade bath bombs. With a few ingredients you may have in your kitchen (and a few you may not have) and a bath bomb mold, making bath bombs is easy.
Gingerbread body butter
In the spirit of luxury, enjoy these bath bombs and sugar scrubs with a deliciously decadent homemade body butter. Combine shea butter with coconut oil, ground ginger, cinnamon, and vanilla extract for a gift everyone would love; You can find the full recipe here.
A delicious lump of coal (or two)
Have any of your friends or colleagues been naughty this year? Give them a lump of coal to enjoy. Break out the Christmas tin for some delicious oreo charcoal. Learn more about the details Here.
Yule Tide Potpourri
If Christmas smells, this is it. Feel your home with the good mood and the good smells. Potpourri is a simple homemade Christmas present that takes little time to prepare. Take a look at the recipe Hereand choose a festive glass to keep your creation.
Holiday hot cocoa
Hot cocoa to take away? Yes, please! Whether it's party favors or gifts for white elephants, these hot cocoa vacation treats are sure to be a hit. All you need is a funnel, plastic test tubes, mini marshmallows and hot cocoa. For assembly instructions and further details click on Here. For a more decorative, kid-friendly version, click Here.
A homemade cookbook

One of my favorite childhood memories was baking cookies on Christmas Eve. My grandmother had her own special recipes that she used every year. Keep your family's special recipes by creating a cookbook. You can use a recipe templates to find the perfect format and choose a decorative cover. This gift can be for several family members.
Personalize your beverage experience
For those who love a good drink, make each one special with a personalized container. Whether it's a shot glass Pilsner glass, or Growler You can customize it for her. Add some sweet words, initials, maybe even their favorite sports teams to a gift they will use again and again.
BBQ kit
Put together a personalized grill set for the drill master in your life. Collect items like a bite brush, a cutting board, maybe an apron. Fill different glass bottles with your favorite barbecue sauces. Add some of your favorite herbs and spices, or flavored salts to glasses. They will enjoy their next barbecue courtesy of yours.
snow Ball
They might not be something you thought could be made at home, but snow globes can be a homemade Christmas present. With a few items from the craft store and a mason jar, you're on your way to a sentimental gift for anyone on your list. For a full tutorial, click here.
Photo collage
In a smartphone world, we take more photos than ever before. But how often do we print these photos? Take the liberty of gathering the recipient's best photos from social media and your own collection and creating a photo collage. You can have it printed on canvas or have it framed traditionally.
You can also have it printed material to make a custom pillow or blanket for her. Photo collages are a wonderful homemade Christmas present.
Light it up
Give light and comfort this year. Candles are wonderful gifts for family and friends. For a brightly colored candle that you can enjoy all year round, you need wicks, colored pencils, popsicles and glass votives. For a full tutorial, click Here. If you want a more holiday-inspired candle recipe, Here is a tutorial for pine scented candles.
Once your candles are made there are plenty of festive ways to store them. You can also buy a simple one DIY candle making kit at Amazon (make up to 100 candles with this kit).
Mason jars come in handy for anything, including a candle votive. Click for a tutorial on how to make a mason jar into a Christmas tree votive that you will love Here.
Summary
Nothing says love like a gift from the heart. Take the time to review your Christmas list and add a personal touch to your friends and family with these budget-friendly, homemade Christmas gift ideas.
Don't forget the real meaning of the holidays and enjoy spending time with family and friends.
Have you thought about homemade gifts for the holidays? What are some of your favorite gift ideas?
Check out my other great value gift guides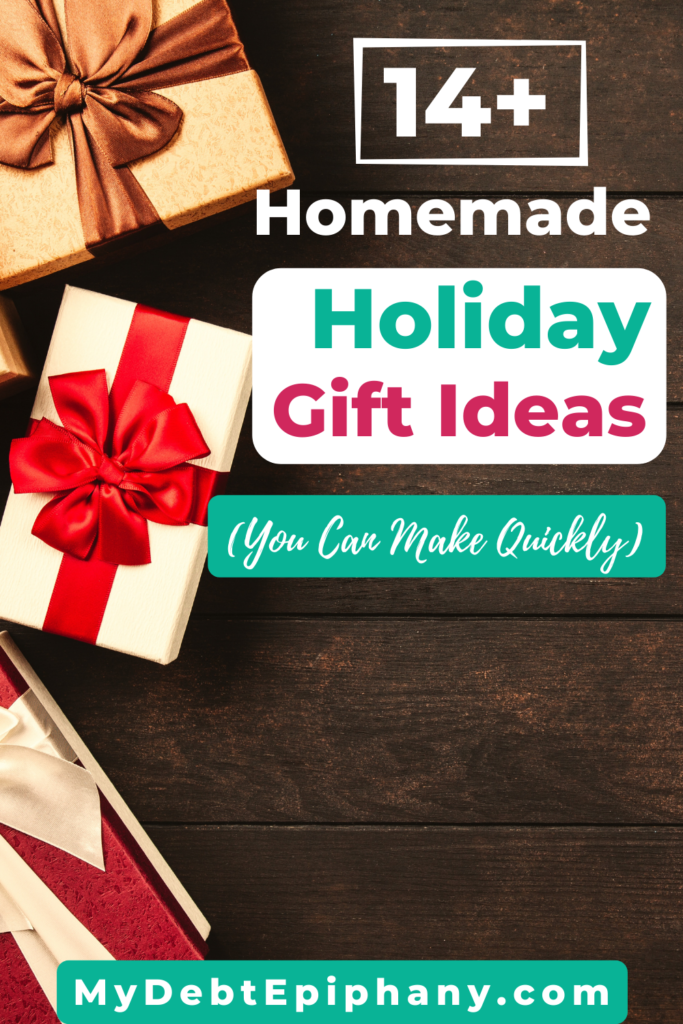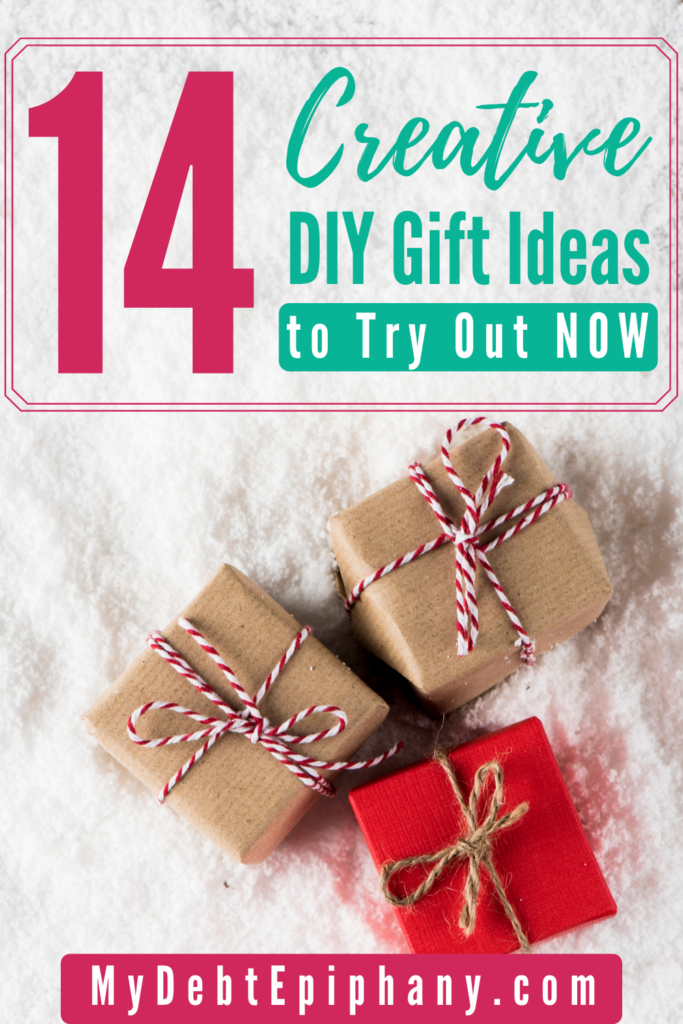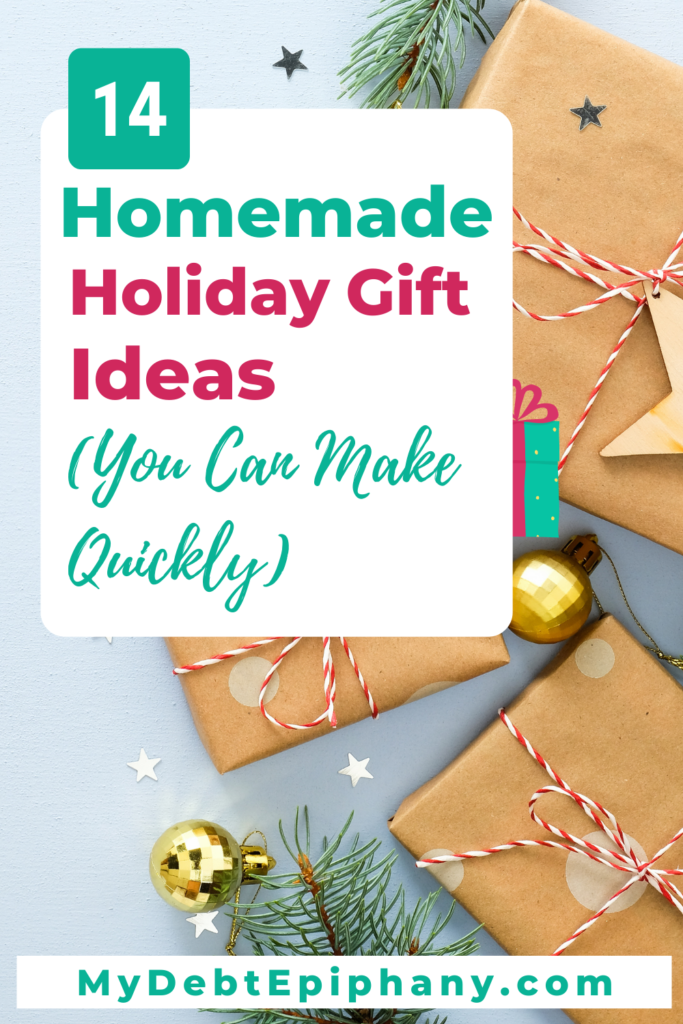 Stop worrying about money and regain control
Ready to take back control of your money? Take the first step with this free starter pack that includes:
2 templates for monthly billing calendars
1 "Start Paying Off Your Debt" Checklist
1 "Dramatically reduce costs" checklist
Success! Now check your emails to confirm your subscription.